The Pro Shop Team at the Mendip Golf Club consists of PGA Fellow Professional, Stuart Disney, PGA Professional Alex Todd and his assistants James Taylor, Sam Scriven.
Together the team works hard to guarantee the warmest of welcome to the Club and go above and beyond the expectation of members and visitors alike.
Stuart excels at teaching, from the elite to complete beginners and from the age of 5 to 105. Stuart has invested in an indoor simulator at the Club to ensure the best teaching and club fitting experience, no matter what the weather!
If you are interested in getting into golf, to improve your game or get back into the game then please take a look at the tuition pages or give the team a call to chat about your requirements.


PGA Fellow Professional Stuart Disney
Director of Golf & Club Manager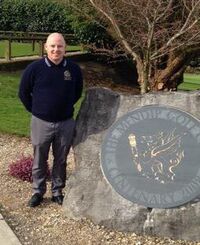 Stuart Disney is a multi-award winning PGA Professional who has only one goal in life – to introduce and support as many people as possible, from all walks of life, to play golf.
Stuart always knew he was going to be a PGA Professional, he simply loves everything about Golf. In 1990 he turned professional, passing all the PGA exams in 1993. Stuart was the youngest PGA Professional to ever complete the PGA course. In 2007 Stuart was awarded the PGA Advanced Professional status after achieving an Advanced Diploma in Golf Studies, the first to achieve this award academically.
In 2016 Stuart was awarded the status of PGA Fellow Professional for his work as an all-round Club Professional, excelling in all aspects of the role of Club Professional from retail to coaching to membership and guest interaction. Stuart now gives talks to other Club Professionals about how to grow the game of golf.
Stuart has a wealth of experience in introducing golf to groups of people who have maybe felt that the game is out of their reach, especially working with people with disabilities. Stuart has learnt sign language to be able to teach those with hearing loss, has taught people who are blind to play as well as working with people with learning difficulties and children struggling with Autism. It is his drive to make golf accessible for all that has resulted in him being awarded the Devon Sports Award for Contribution to Inclusive Sport in 2016 and being named as the PGA Development Coach of the Year 2016. In 2018, Stuart was awarded the Somerset Activity and Sports Partnership 'Participation Coach of the Year' and in 2019 won the prestigious TGI Golf Partnership 'Most Improved Business of the Year'.
In his playing career, Stuart has reached the Open Championship Final Qualifying, been the Devon Professional Champion and winner of the Devon PGA order of Merit.
Stuart is simply the whole package, whose personal goal is to become a PGA Master Professional by the age of 50.
Describing why he came to The Mendip Golf Club Stuart says:
"The Mendip Golf Club is a progressive Club, it knows the challenges Golf has and that to have a happy and healthy future the club must evolve and progress while keeping hold of traditions that golfers hold dear. The Club is open and the members so friendly, you cannot help but be inspired and motivated at such a welcoming club."


PGA Professional Alex Todd
Head of Coaching & Development
Alex has recently joined us and is the newest member of our team, he has settled in to Mendip Golf Club very quickly and is relishing his role as Head of Coaching and Development.
Alex has been playing competitive golf since the age of 7 and reached scratch status at a very young age, winning several local events over the years. He still holds the Course Record on the Farrington 9 hole course and Alex coached at Farrington for several years before joining Mendip. He turned professional at age 20 and gained a University degree with core subjects such as golf psychology, bio mechanics and golf business management. Alex has a real passion for self improvement and thrives on seeing success gained by Juniors he has coached.
Alex, 28, has been a PGA Qualified Professional for 5 years and brings with him a passion for coaching and developing golfers. Alex will be heading up the Coaching at Mendip Golf Club and will be working hard to implement a new Ladies Golf Academy (part of our Women in Golf Charter programme), a new Get Into Golf campaign, Junior Golf Development, individual golf development programmes as well as doing a number of group sessions for Seniors and Ladies.
Alex comes very highly recommended and is local to the area. He has a been a County standard tennis player and has played golf at all levels for Somerset before turning professional some 8 years ago. After undergoing the PGA Training programme for three years, Alex gained his qualification in 2016.
He is looking forward to continuing his career at The Mendip Golf Club.
James Taylor
Shop Manager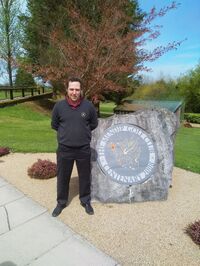 James first joined the Mendip Golf Club in 1990 aged just 5 years old. The course is in his blood.
From a young age, James has always wanted to be a PGA professional and worked hard to get to the playing ability required. James was the Junior Club Champion twice, Junior Captain, Men's Club Champion and represented Somerset at both Junior and Mens level.
In 2009 James began training to be a PGA Professional and his dream was becoming a reality. Unfortunately with a change of Pro Team at The Mendip Golf Club James had to give up his dream and move on to another career.
A spell away from the game and 3 children later a 31 year old James has his dream of Professional status ignited again. PGA Fellow Professional Stuart Disney had no hesitation in making James a member of his team and together they will ensure James gets the award he has so desperately wanted.
Stuart has this to say about James.
"As soon as I met James I just knew he was right for my team, he is a genuinely kind and polite man who has a passion for golf despite having knockbacks in his life. His motivation and perseverance in following his dream is a credit to him".
James has a wealth of knowledge about The Mendip Golf Club and is a valued member of the Pro Team.


Sam Scriven
Shop Assistant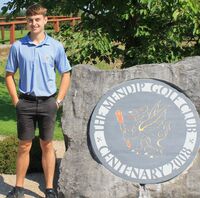 Sam is a polite, well-mannered young man who first joined The Mendip Golf Club at just 11 years of age in 2012. He is a keen golfer and can regularly be seen on the course and around the club.

Sam, 22, has just turned professional and is now enrolled onto the PGA golf studies degree to become a qualified PGA professional. Sam has been playing in some regional professional events for Mendip. The threee year course covers Golf Science, Golf Biomechanics, Golf Coaching and Business Management. He has a great passion for coaching and fittings and developing golfers and helping all ages improve their game.

Sam's values are, 'I want to make golf accessible for all by promoting inclusivity. I am a hard team worker as I am aware of the influence my actions have on the club. I value professionalism and always ensure I am smartly dressed and punctual. I am enthusiastic as I strive to share my love and passion for the sport. I am approachable, self-driven, with a willingness to learn and help all golfers enjoy the game of golf.'
Sam is well liked by members and visitors alike and his friendly demeanour enusres a warm welcome awaits.