The Mendip Hills
Just 20 miles or so to the south of Bath and Bristol are the Mendip Hills.
Rising to just over 1000 feet (300 metres) at the highest point, this apparently modest plateau of l
imestone hills stretches about 50 miles, from the coast at Weston-super-Mare almost to Frome in the east. Nonetheless, on a clear day, the Mendips offer spectacular panoramic views towards Exmoor, the South Wales coast and Salisbury Plain. Like some other parts of Somerset, the Mendips have been
designated as an Area of Outstanding Natural Beauty (AONB).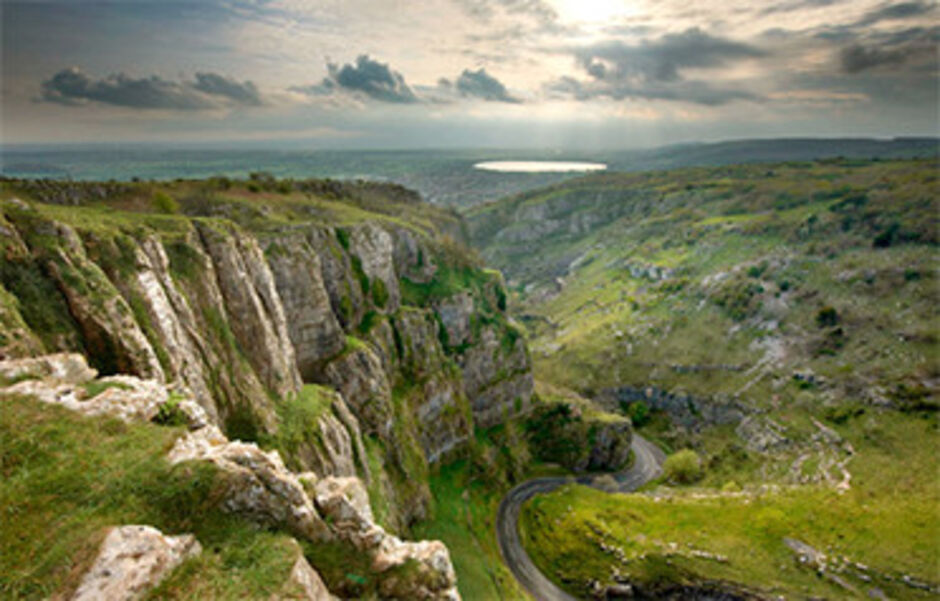 The folds in the Mendip Hills have created many valleys or 'combes' in which mellow, stone-walled
villages nestle. The most famous of these valleys is the magnificent Cheddar Gorge, Britain's largest limestone gorge, created by the erosive power of water over
millions of years. Also produced in this way are the
spectacular underground caverns of Wookey Hole and Cheddar Caves, both now fascinating visitor attractions in their own right.
The Mendips make an excellent playground for all manner of outdoor activities, from caving to climbing, horse riding to mountain biking, walking to off-roading. Plenty of well-qualified organisations will allow you to try out something new or, if you already know what you're doing, they can help point you in the right direction for the best locations and perhaps to meet others who share the same interests.