Club News
Mendip Golf Club Press Report October 2018

The Showering Cup Mens' event attracted 80 entrants who encountered poor weather conditions with heavy rain and high winds. This led to a number of players abandoning their rounds. Winning score in Division 3 was from Paul Wood with a 72 and he was followed by Mark Colbourne 73 and Stephen Pearson who was 3rd on 74 after a 4 way count back.Division 2 went to Stephen Cox with 70 on count back from Selwyn Rees with Stephen Davis 3rd with 71. Division 1 went to Wayne Black with 72 with Martin Myers 2nd with 73 beating Ryan Sainsbury on count back. However the Cup Winner came from Division 2 with a fine round by Andrew Thatcher of 68, 4 under CSS.
The Ladies Medal saw a win in Silver Division for Jenny Merrett with 76, Chris Atkinson was 2nd with 78 and Liz Rose 3rd after count back with 80. Bronze Division went to Sandie Roper with 76, Marilyn Andrews was 2nd with 78 and Andrea Williams 3rd with 81. Copper Division was won by Dee Garnsworthy with 75, Eileen Masters was 2nd with 78 and Val Dixon 3rd with 80. The Ladies Optimists Cup, a KO Competition for the higher handicap players saw a win for Eileen Masters who beat Julia Phillips in the Final.
The Ladies Friendly Team entertained Taunton & Pickeridge and gained a 3-1 victory. Wins for June Page/Gina Howard, Mary Ainsworth/Pauline Williams and Diana Stevenson/Carol Mosley.
The Seniors when visiting Saltford went down 2½-4½ with wins recorded for Nick Inskip/Stephen Smith and Colin Davies/Selwyn Rees. Henry Banks/Kevin Carmody gained a half. A second away fixture saw a further defeat at Taunton & Pickeridge 2½-3½. Wins this time came from Dick Ransley/Tony Taylor and Mike Sharp/Chris Bennett with Philip Moores/Norman Squire gaining a half.
Mendip's Senior Mixed Open event went ahead with the dire weather predictions leading to a number of late withdrawals. However the weather was not as bad as predicted and the 94 contestants from 21 different Clubs enjoyed a an excellent days golf. Mendip winners were Martin Wilkins/Ann Hopkins with 41 points with Nichola Croft/Rod Dyson 2nd with 40 and Ann and David Collins 3rd with 36. A Mendip Spring couple won the visitors 1st prize with 38 points after a 4 way tie. Couples from Chippenham, Weston and Long Sutton took the remaining prizes, all with 38 points.
The Mendip Mixed Team visited Enmore and lost a very close match 3½-4½. Winning couples for Mendip were Rob and Sue Needham, Terry and Cora Pavey and Carol and Geoff Mosley, with Team Captain Margaret Allen and Bob Smallcombe gaining a half.
The Latest Nearest the pin results saw wins for Liz Rose and Ellen Reakes, Matt Bendall and John Ellis and Chris Jackson and Robert Earney.
Bar Manager Nicki Martin and her Social Committee held a Bond Themed Casino night greatly enjoyed by those who attended. Awards were made to the best dressed Bond and Bond Lady and these went to Alan Edwards and Lady Captain Bron Cooper. Best Male Gambler award went to Mike Streeter with Hannah Gould winning the Ladies award.
In Snippets corner we hear that Sue Needham although fairly new to the game, achieved her second Hole In One this season when playing for the Ladies against the Seniors in their recent match. At the other end of the experience spectrum 77 year old Bryon Osborne achieved his first Hole In One when playing in the Wednesday Flag event. Not to be outdone, Clive Down achieved his Hole In One on the Par 4 18th hole.
Following the recent runaway car story, the President's trolley was recently seen rolling across the 1st fairway before somersaulting into the left hand greenside bunker.
And finally you do not always have to play well to enjoy your round of golf. The well known Brian Francis competing in the Showering Cup had a rather difficult round with 6 x 8's and a double figure score on the 18th. However apart from the pleasure of seeing his handicap go up 0.1 he achieved 2 x 2 spots worth £11 each. A good day after all at the office!

Photo: Alan Edwards and Bron Cooper, Best Bond and Best Bond Lady at the recent Casino night.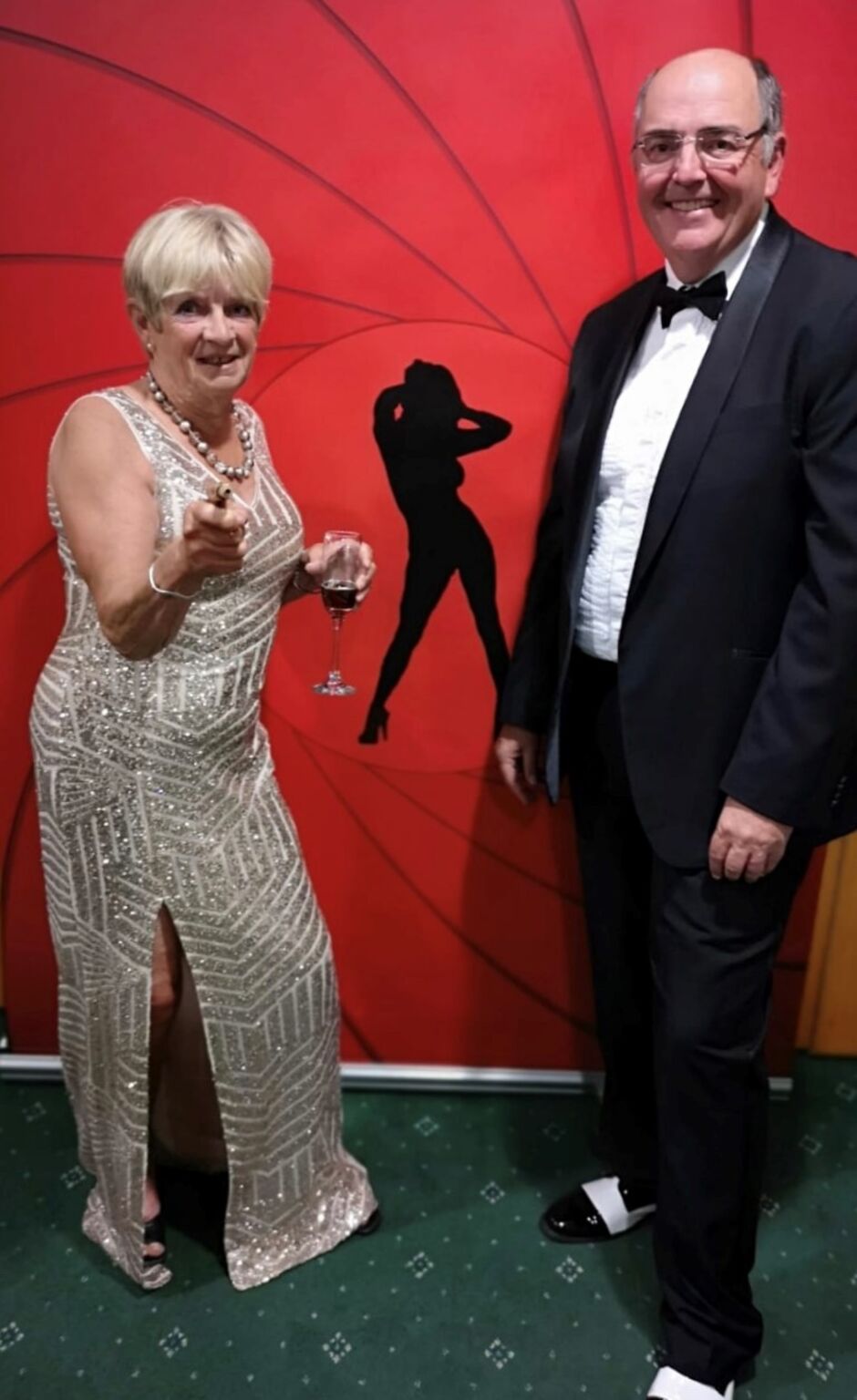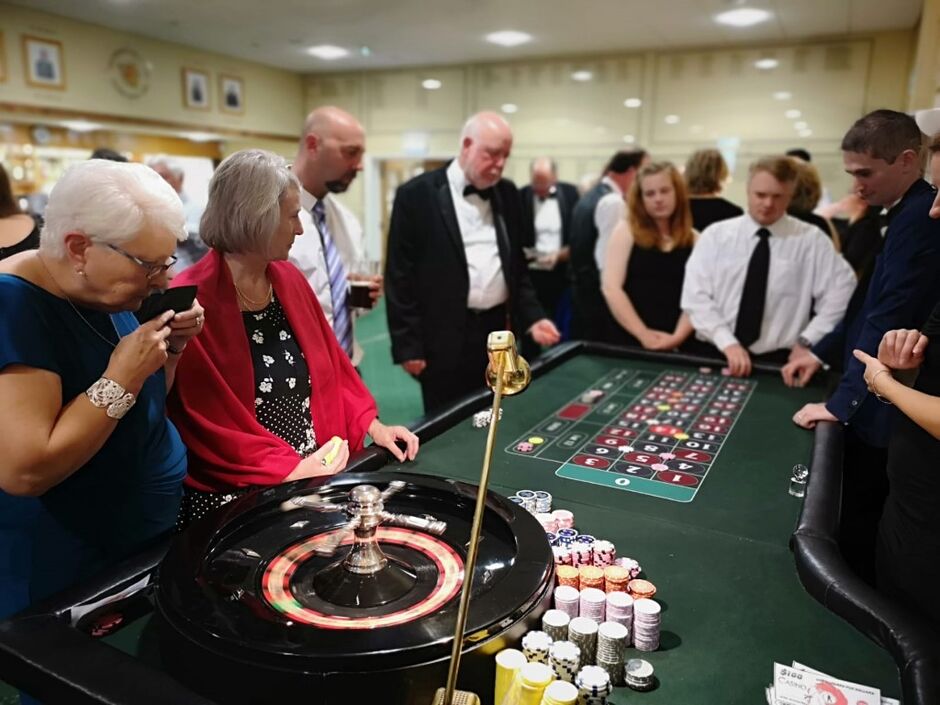 Photo: Mendip Golf Club Casino night

Tony Williams