Club News
March Press Report

Mendip Golf Club Press Report:
Mendip's Spring 4 man Texas Scramble attracted an entry of 108 players. Lovely playing conditions resulted in a very low scoring event. Net 53.6 only gained Robert Good, Steven Morris, Ian Perkins and Shaun Rich 3rd position and even that after count back from Mark Crook, Jack Hayes, Matt Horler and Will Waddington. In 2nd place with 52.4 came Duncan Offer, Captain Elect Paul Smith, Andy Parfitt and Spencer Pocock but with a magnificent net 50.4 the Winners were Keith Beasley, Alan Evans-Jones, Chris Bennett and Club Captain John Shakesby.
The Avalon A Team commenced their League campaign against a strong Oake Manor Team and were delighted to gain a winning 5-0 start to the season. Wins came from Steven Moore/Wayne Black, Richard Gumbleton/Team Captain Steve Coate, Wayne Srawley/D Allen, Jack Hayes/Mark Crook and Ben Cox/WillWaddington with even the Reserve pairing of B Rawlings/Spencer Pocock winning their match.
Following last week's report on the Weekend Stableford, it has come to my notice that with 90 Competitors there was only ONE 2 spot, gained by Tom Ryan, which won him £88 for his efforts.
38 Ladies played in the Qualifying Stableford. Silver Division was won by 3 handicapper Aimee Sawyer with her third successive 36 points, an excellent achievement. Jean Padfield took 2nd place with 33 after count back from Chris Olds. Bronze Division went to Bron Cooper with 33 points with Diane Stanton 2nd with 32 and Andrea Williams 3rd with 27 after count back, Eileen Masters won Copper Division with 31 with Sue Needham 2nd with 29 and Anne Padley 3rd with 28 after count back.
The Seniors entertained Sherborne on a glorious day with the Course receiving many compliments from the Visitors. Mendip ran out Winners 4½ - 1½. Winning pairs were Nick Inskip/Rob Needham, Seniors Captain Bryan Lewis/John Ellis, John Brooksbank/Philip Moores and Mike Lill/Stephen Smith with Martin Lambert/Malcolm Hares gaining a half.
The Pro Shop Nearest the Pin went to David Williams with Andy Matthews 2nd and Chris Butland 3rd.
A busy Clubhouse witnessed a Charity Music Quiz with funds being raised for the Charity being supported this year by the Ladies and Seniors Captains. This is the Freewheelers Charity, a voluntary service who support the NHS in emergency situations by transporting vital materials between hospitals. An excellent evening with lots of singing and laughter raised £270 for the Charity.Thanks were given to Clive Hennessy and his Team for setting the questions. The Winning Team were Simon, Pippa and Laura Wynn.
Photo: Mendip Charity Music Quiz: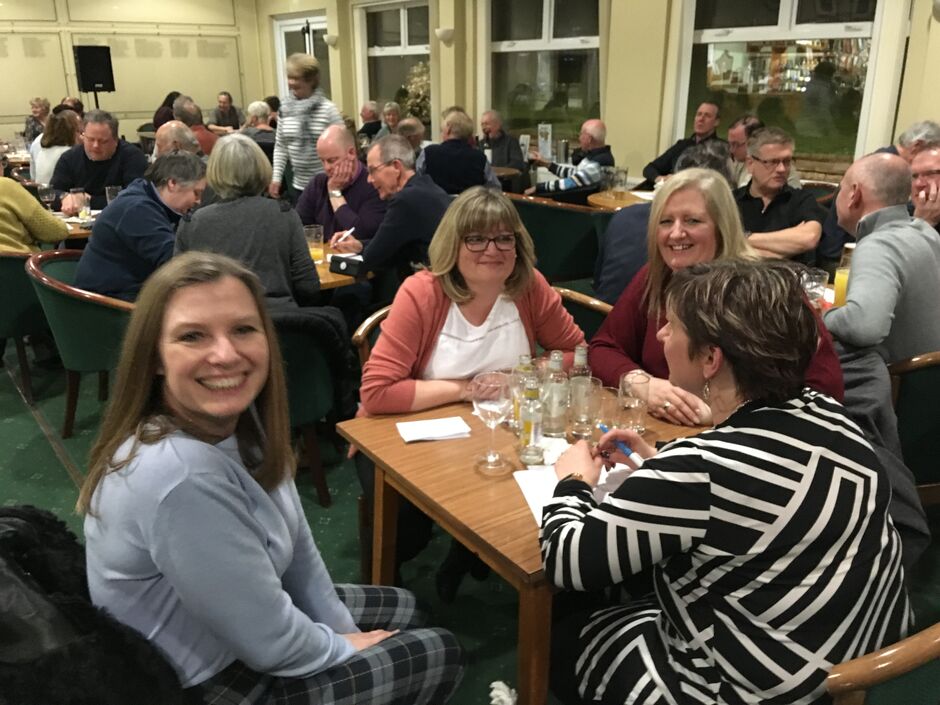 Tony Williams

Divoting Day - 21st March 2019

32 members including 5 ladies plus the greens team gathered at the club this morning for a divoting party. It took 2 hours to complete the task and afterwards everyone retired to the clubhouse for much needed sandwiches, chips and coffee. The Greens team thanked the members for their enthusiastic support and everyone enjoyed helping the club prepare for the coming season.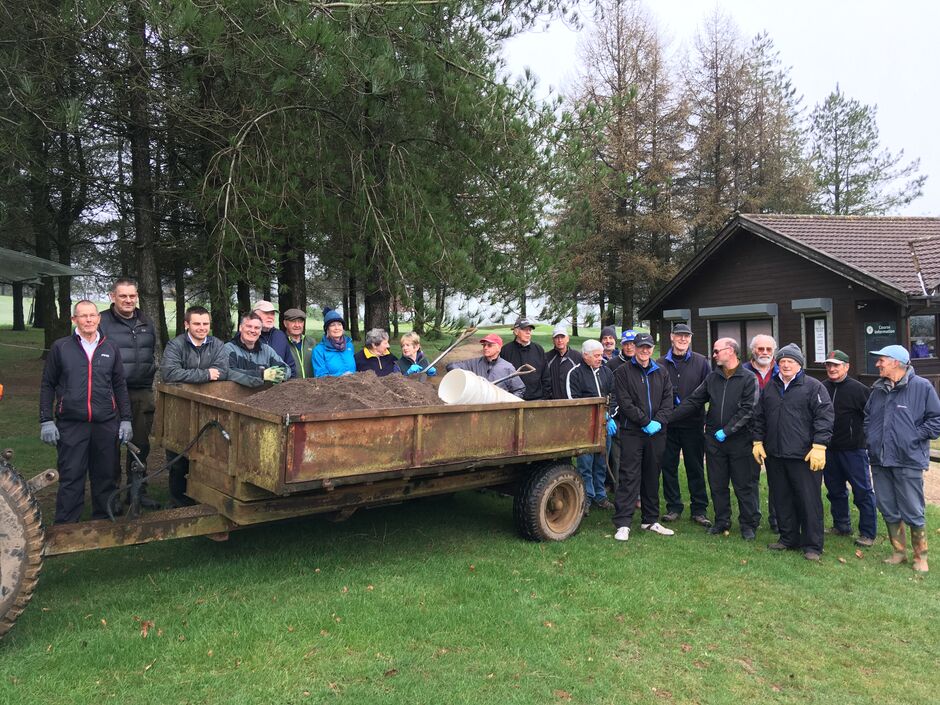 Mendip Golf Club Press Report February 2019
After the recent snow and heavy rain, competitive golf has now returned to Mendip. Although the melted snow left the Course extremely wet, Members were delighted to see that the Greens remained firm and came straight back into play. With all the remedial work that took place in 2018, the recent weather was a true test of the Greens condition and they have passed with flying colours. Even more good news came with the Agronomist's recent visit. There should be no need for any heavy greens preparation work in the Spring, meaning that the Greens should be in excellent order much earlier than usual.
The firm greens led to some fine scoring in the Pro Shop Stableford. N Harvey was the winner with 41 points, one ahead of P Leadbeatter. In 3rd place with 38 was A Payne who beat Mark Necker on count back. Alan O'Leary was 5th with 37, again on count back.
The Pro Shop nearest the pin saw a win for P Jamieson with A Matthews 2nd and Tony Taylor 3rd. The following week saw the largest entry since Christmas and with ever rising standards. Rob Earney's 4 foot 5 inches whilst an excellent attempt, was only good enough for 3rd place, with M Hawking 2nd and M Llewelyn in 1st place.
42 Ladies played in the 9 hole Mix Up Bowmaker. The winners were Jean Padfield/ Wendy Norman/Val Dixon with 39 points. 2nd were Lulu Carolan/Margaret Allen/Jill Jestico with 38 and in 3rd place were Chris Atkinson/Gina Howard/Margaret Hawker with 37.
The second Seniors Competition of the year saw 72 entrants playing an individual 3 Clubs and a putter event. The scoring seems to prove that the additional 10 clubs we tend to carry are not really needed!
Division 1 saw a win for Simon Atkinson with 37 points, with Alan O'Leary 2nd with 35 on count back from Merlyn Saunders. Division 2 was won by John Cross with a splendid 41 points, David Garnsworthy was 2nd with 39 and Seniors Captain Elect John Brooksbank was 3rd with 38 points. The Veterans Division was won by Roger Wickett with 38, Alan Evans-Jones was 2nd with 35 on count back from Brian Barton.
There were only 3 '2' spots earning Brian Barton, Mike Curtis and Brian Say the handsome sum of £23 each; a good day at the Office one could say!
Tony Williams